Does anyone else remember the show Kyle XY? It aired on what used to be ABC Family channel (now it's Freeform) and followed the life of an teenage inhuman boy who didn't have a belly button. I bring this up because when I look for workout clothes, I constantly have Kyle XY in mind because I don't want anyone to see my belly button. If you can see my belly button, you can see my lower stomach, which is one of my least favorite areas of my body. I train hard three to six days per week. I try to eat clean, I do have my moments especially at work. My goal is a flatter tummy! There are more important things in life, like French fries and cookies, and I'm not willing to skimp on those small pleasures. So in order to feel like my most confident and fittest self, I rely on my best friend—my high-waisted leggings.
If you don't love your stomach area and you don't own high-waisted leggings, I'm here to hit you with the truth. They are, without a doubt, the best thing to happen to the athleisure world since the sports bra. A good pair of high-waisted leggings not only hides your lower stomach, but it also pulls you, lifts your butt, and stays up throughout your most difficult and active workouts. I wanted to take my love for this article of clothing to the next level and try to find the pieces that check all the aforementioned boxes. I tried high-waisted leggings from 11 popular athleisure brands and, I promise, these are the best of the best.
1. GYMSHARK
GYMSHARK WOMENS SCULPT LEGGINGS ($50.00 USD)
These are hands-down a favorite for BEAUTYLEEBAR readers and for myself for a number of reasons. One, they're comfortable and supportive with moisture-wicking and sculpting fabric. Two, the elastic waistband never slips and even has a handy built-in pocket. And three, it's a great quality pair of leggings at an even better price point. It sculpts the body perfectly and is super soft on the skin!
2. SWEATY BETTY
Sweaty Betty Zero Gravity Run Leggings ($93.00 $135.00)
This UK activewear brand is a force to be reckoned with. Its high-waisted bum-sculpting leggings do exactly what they say they will. Thanks to their flattering and practical design and their discreet drawstring at the waistband, I will continue to trust these leggings through my most difficult and fast-paced workouts.
3. ATHLETA
Athleta Lightning Stash Pocket 7/8 Tight in SuperSonic ($89)
You know a pair of high-waisted tights are going to be good when they have a drawstring, a lightweight feel, AND pockets. These tights are perfect because it SuperSonic fabric is sleek with supportive compression while still flattering the booty.
4. FP MOVEMENT
FP Movement High-Rise 7/8 Length Good Karma Leggings ($78)
These leggings are incredibly light. They feel like you're wearing next to nothing. I was worried they would move around during my workout because, in my experience, lighter leggings don't always stay close to the body during fast movements. I was so wrong. These stayed up and barely moved during my workout. I was constantly worried and kept touching them and checking to make sure they were staying in place because I felt like I wasn't even wearing leggings, but they really did stay up.
5. NIKE
Nike Nike Victory Women's Training Tights ($60)
These leggings are soft and comfortable, yet sculpted at the same time. They're also extremely stretchy, so they're good for yoga and barre.
6. VARLEY
I thought the perfect high-waisted leggings didn't exist—and then I tried these. This brand might be new to the activewear world, but don't get it twisted—its products will quickly replace all your tried-and-true favorite athleisure pieces. The pieces are lightweight, the seams aren't heavy, and the waistband survived through squats, burpees, and deadlifts. The fabric feels like buttery velvet against your skin, and these leggings keep your body cool and dry during super-sweaty workouts. If I could live in these leggings I would.
7. ALALA
Alala Captain Ankle Tight ($110)
These leggings have a special space in my closet. Alala leggings don't come cheap, but they're worth every penny. The thick waistband makes you feel secure, and the fashion-forward design features are absolutely perfect. This particular pair of leggings lasted through every type of movement that I threw its way. If you love to work out and find yourself looking for an item to splurge on, give yourself the gift of a pair of Alala leggings.
8. LULULEMON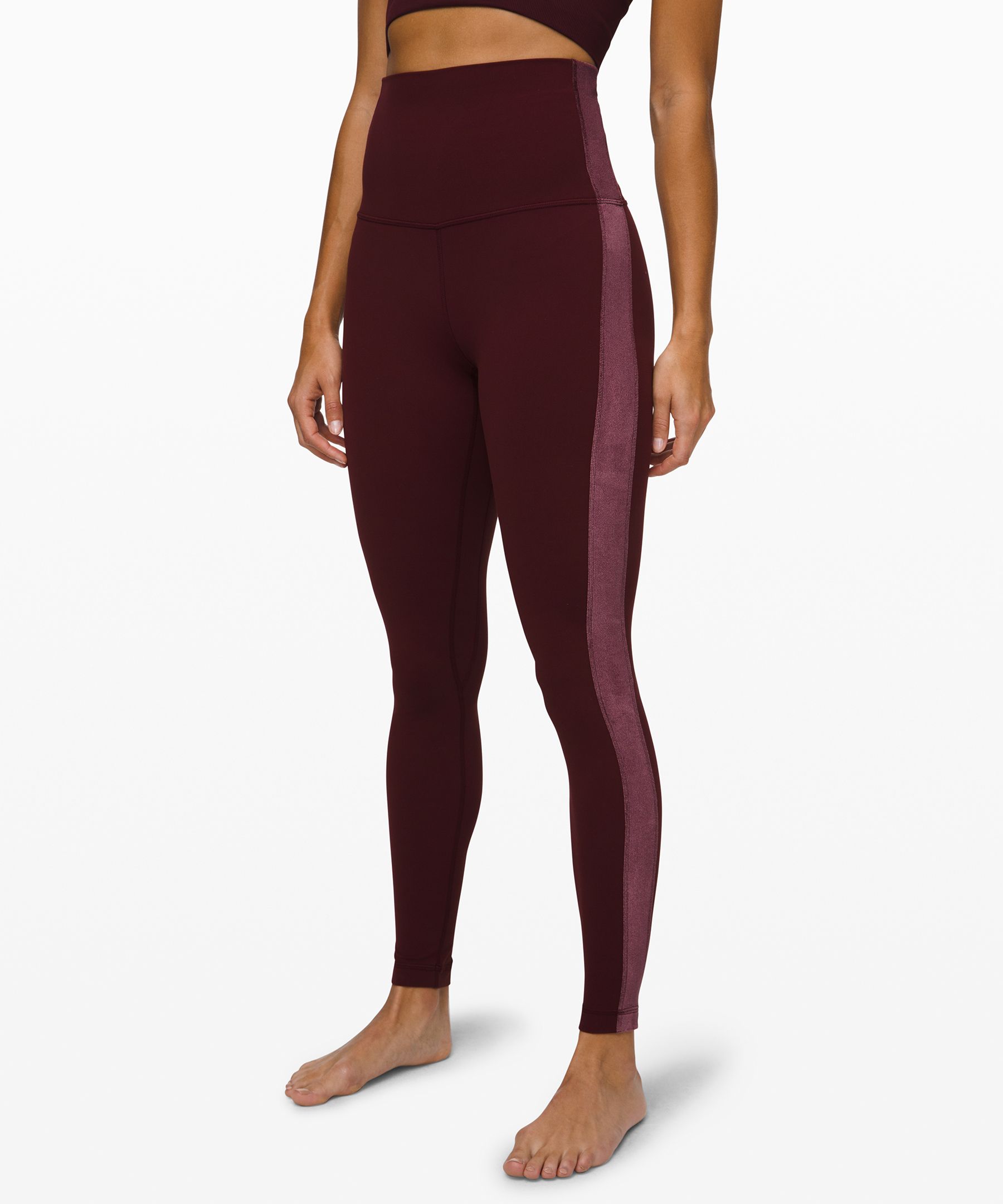 Lululemon Align Pant Super High-Rise 28″
Velvet ($89.00$118.00 USD)
I'm no stranger to Lululemon leggings. Prior to completing this experiment, its Fast & Free Tights ($128) were my favorite high-waisted leggings of all time. I considered buying multiple pairs, but my bank account suggested otherwise. This new high-waisted tight has pockets and a drawstring to make sure that the tights are just as high at the end of the workout as they were at the beginning. I'll definitely be wearing this style on repeat.
9. FABLETICS
Trinity High-Waisted Utility Legging
There are a lot of things I love about Fabletics. I love that the brand uses real fitness influencers to be the models for its website. I love that it designs pieces with the hardest workouts in mind. They're the best-selling leggings on the site, and they deserve that honor.They don't move. The slimming design pulls you in and keeps you secure no matter how intense your workout is. Fabletics is a FREE sign up site that customize to your needs and wants.
New, revolutionary Motion365 is their most versatile fabric, designed to give you all the sculpting benefits of high compression with maximum breathability. This state-of-the-art fabric is crafted from resilient nylon that wicks away sweat and enables full range of motion—whether you're at boot camp or barre class.
10. PRANA
I'm no stranger to prAna leggings. Prior to completing this experiment, its Momento 7/8 Legging ($79) were my favorite mid-rise leggings of all time. This new high-waisted tight has pockets and a drawstring to make sure that the tights are just as high at the end of the workout as they were at the beginning. I'll definitely be wearing this style on repeat. I am a fan of their leggings, bags and etc! I have worked with this brand before and I am still a fan after all these years.
This women's style is made with a blend of Chakara®, their most compressive performance fabric yet, and offers moisture-wicking properties, UPF 50+ sun safety, and a strong, grounding feeling against the skin.
Then prAna added extra support by creating a high-rise fit, a hidden key pocket in the waistband, and a COOLMAX® triangle gusset. And last (but certainly not least), included charming eyehole embroidery that wraps around the ankle and runs up the length of the leg.
After all of my thorough research and testing, I can confidently say that you can't go wrong with any of these leggings. No matter what kind of workout you enjoy, these will make you look and feel your absolute best. So next time you're feeling like buying yourself a little something special, feel free to add one of these to your cart.
RELATED POSTS: